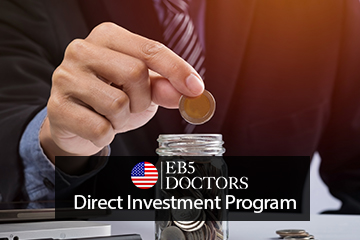 What is the EB-5 Direct Investment Program?
The EB-5 Direct Investment Program has been put in place to provide opportunities for those that are looking to acquire their green card. This program is robust and quite helpful for many aspiring medical practitioners and entrepreneurs.
This program is used especially frequently in high unemployment areas, known as TEA (Targeted Employment Areas) zones.
The basic premise of this program is to get acquainted with investors, who are interested in investing around $1,000,000 in a U.S. business, or $500,000 in a Targeted Employment Area (TEA). The creation of your medical practice must include the creation or preservation of a minimum of 10 full-time jobs.
There are two types of EB-5 investors programs: Direct Investment and Regional Center. At EB5 Doctors group, we specialize in direct investment via the EB-5 visa program.
Goals of the EB-5 Direct Investment Program
Quite simply, the objective of the EB-5 Investment Project is to inspire entrepreneurship in the United States and help foreign nationals with the development of new businesses.
In America, medical/dental practices are considered to be very specialized skills and require a great deal of money to start. The EB-5 Visa Investment Program seeks to make this process dramatically easier, taking the financial difficulties into account from those who have immigrated to the United States.
This is because the process of setting up a medical practice typically involves years of medical school, with hundreds of thousands of dollars in debt. Many of those interested in setting up a medical practice simply don't have the funds to be able to invest their hard-earned money into a medical practice right off the bat.
[Recommend: How EB-5 Direct Investment Is Different From Other Visa Options?]
How to Apply for the EB-5 Direct Investment Program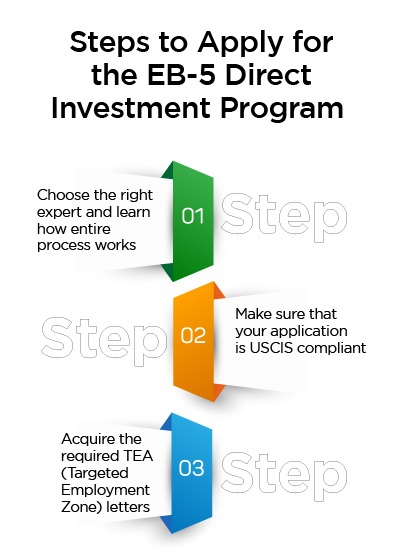 Applying for the EB-5 Direct Investment program really just involves a simple set of requirements.
The first step is the first consultation, which is where experts, like the ones available at EB5 Doctors Group, will teach you how the entire process works.
This is very important because it includes valuable strategizing, including budgeting. Budgeting is crucial for the EB-5 Direct Investment Program because opening up a medical practice is costly. Our goal is to make it an easier, smoother process and to get you up on your feet as soon as possible.
The second step involves due diligence, which is to make sure that the new medical practice is being created in accordance with the EB-5 visa program's requirements. It's best to meet with a group of qualified professionals, such as attorneys, writers, and economists to make sure that your application is USCIS compliant.
The final step to get a green card by investment includes processing the application, where the one who manages your account will attempt to acquire the required TEA (Targeted Employment Zone) letters. At EB5 Doctors Group, we offer assistance for the completion of all of these tasks.
[Also Read: Why Hire An Experience Immigration Consultant For The EB-5 Investment Visa?]
Should You Apply for the EB-5 Direct Investment Program?
In the end, that decision needs to be yours. There are pros and cons to any business decision, but from what we've experienced with our clients, the overwhelming majority of them are very pleased with their decision.
The EB-5 Project is really the most efficient way to be able to create a medical practice in the United States. Also, the green card priority date for India is Current, which means there is no backlog. You will be able to receive EB-5 Green Card in just 2 to 3 years of investment, which is awesome.
There are so many talented people who have the ability to create a very successful business, yet worry about the costs and ramifications of what it would take to build that business.
So if you're someone who is willing to take risks, put in the work, and work to build their dream – the EB-5 Direct Investment Program is absolutely for you.
Ready To Take The First Step?
Learn how to start your EB-5 process with a small investment as low as $100,000 by booking a discovery call with us today!