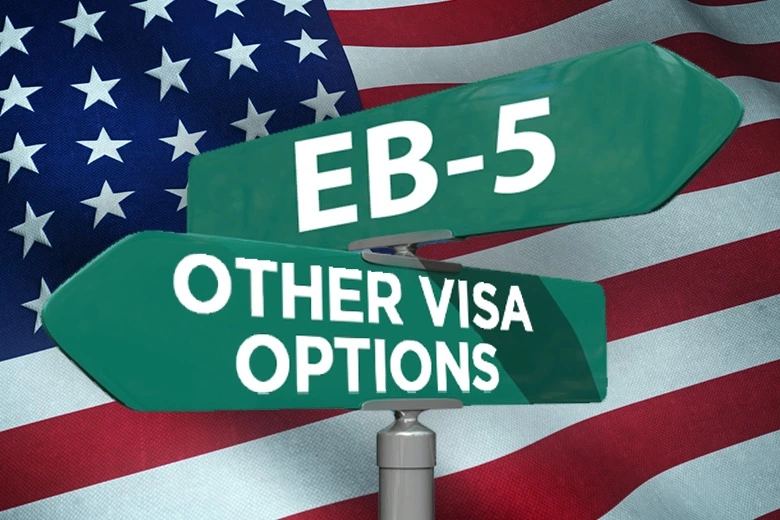 For foreign entrepreneurs looking to immigrate to the United States and obtain a green card, the most lucrative paths are through an EB-2 visa, EB-3 visa, and EB-5 investment visa. We will walk you through how the EB-5 direct investment program is different from other visa options.
| | | |
| --- | --- | --- |
| S. No | EB-5 | EB-2/EB-3 |
| 1. | EB-5 is an investor visa. | EB-2/EB-3 are employer visas.  |
| 2.  | The priority date is current for India | The priority date is backlogged to 2012/2013 for India. |
| 3. | With this visa, you can get the green card in just 2 to 3 years. | With an EB-2/EB-3 visa, you will have to wait for more than 10 years to obtain the green card. |
| 4. | The beneficiary must invest $1 million (or $500,000 in TEAs) and create a minimum of 10 full-time jobs | Does not require any investment or creating jobs. |
| 5. | Applicants are absolutely independent of any employer: they choose the business and make investments. | Requires sponsorship from the employer (unless applying for National Interest Waiver). |
EB-5 Direct Investment Program or Visa By Investment USA
Investors should look into the EB-5 category as a more viable option to settle in America. This allows for legal permanent residence in the United States within 2 to 3 years. The Immigration Act of 1990 created the EB-5 program to encourage and promote economic growth. The EB-5 Visa Investment allows investors and their immediate families to apply for Green Cards. This will allow them to live, work, study, or retire in the United States.
To receive this visa, you must invest at least $500,000 in a New Commercial Enterprise (NCE). Only 10,000 EB-5 Investment Visas are issued annually by the U.S. including visas for family members.
Benefits of EB-5 Direct Investment Program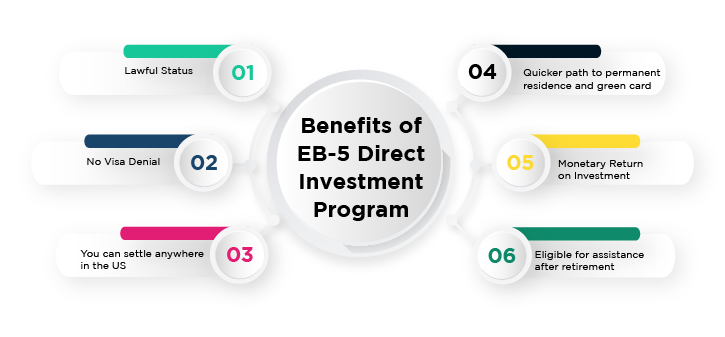 Lawful status
It is the primary goal of many foreign investors who apply for an EB-5 visa. The EB-5 program offers investors the chance to apply for U.S. permanent residence status for themselves, their spouse, and their qualifying children.
This visa allows the investor, and their spouses and children (below the age of 21), a legal path to live, work and study in the U.S.
No visa denial
EB-2 and EB-3 visa holders have to worry about visa and green card denials. There is always uncertainty about green cards for these visa holders. But, there are no repeated visa denial worries for EB-5 visa and green card holders.
You can settle anywhere in the US
The United States is a large country in terms of both population and geography. It has everything a foreign investor looking to make an EB-5 investment. An EB-5 visa allows investors to freely choose where they want to live and open their business or practice. Other types of visas have much more strict conditions, which visa holders must follow or lose status.
Quicker path to permanent residence and green card
The EB-5 visa can facilitate a path to permanent residence faster than any other types of visas or green cards. The initial conditions of the EB-5 Direct Investment program can be removed after two years. Additionally, immigrants with an EB-5 visa may be eligible for citizenship in the U.S. as little as 3 years after achieving green card or permanent resident status.
Monetary return on investment
Though many of the investments help the investor gain entry into the United States, the right investment can lead to profits and further income for the investor. The initial investment can easily pay off in more.
Eligible for assistance after retirement
EB-5 visa holders can receive pension support after retirement, just like U.S. citizens. They can receive the pension money that they earned in their home country as well as the United States. If necessary, U.S. permanent residences may also be eligible for Medicare and other social assistance programs in the United States.
EB-2 Visa
The EB-2 visa is a second preference for employment visas. This visa is for people who have exceptional abilities or advanced degrees. Advanced degrees can be master's or higher degrees (or equivalent foreign degrees). An EB-2 visa may be available to a person who has a bachelor's degree or equivalent and five years of work experience. You can prove this by obtaining awards or work experience. People who work in the United States' national interest can also apply for the EB-2 visa. This could also include healthcare professionals working in areas with low resources.
The EB-2 visa can be used to obtain a second preference employment visa. This means that 28.6% of total employment-based visas (E.B.) will be allocated to EB-2 visas. This is because there will be more applicants for visas than available visas each year. Each year, approximately 40,000 EB-2 visas are granted. Applicants from one country can only receive 7% of EB-2 Visas. The wait time to get a visa may be longer if you're a national from a country that has many applicants.
[Also Read: Why It's The Best Time To Choose EB-5 Direct Investment Over EB-2 Visa?]
EB-3 Visa
The EB-3 visa, which is a third preference for an employment visa, is available to professionals, skilled workers, as well as unskilled workers. A professional is someone with a bachelor's degree or higher (or equivalent foreign education). Skilled workers have 2 years or more of work experience. People with less than two years of relevant work experience are called unskilled workers.
The EB-3 visa can be used to obtain a third preference employment visa. The requirements for EB-3 visas are generally less stringent than those for EB-1 or EB-2 green cards. It may mean that wait times can be longer. EB-3 visas account for 28.6% currently of all employment green cards. This is equivalent to approximately 40,000 EB3 visas each year. A maximum of 7% of approved EB-3 Visas can be granted to the same person from any country. The wait times can be longer if you apply from a country that has many applicants. For those from India and China, expect a longer wait time.
Benefits of the EB-3 Visa
Legal permanent residence is possible in the United States.
Qualified individuals can obtain legal permanent residence in the United States with the EB-2/EB-3 visa. You have many benefits from having permanent residence in the United States. These benefits include tuition at an accredited college in the state, travel that is easier, and stability in your immigration status. You can also get U.S. citizenship through this program.
You can bring your spouse and children with you to the United States.
E-21 status is available to your spouse, and E-22 status for unmarried children younger than 21 years. After completing the Employment Authorization Documents, your spouse is eligible to work in America.
Conclusion
Preparing for your permanent residence through EB-5? EB5 Doctors Group has trusted and experienced consultants who can help you with EB-5 immigration visas in the USA.
Our partners have a proven history of handling investment visas for clients. From business plans to the I-526 filing, I-829 completion and receiving the green card, we are there for the EB-5 investor from beginning to end.
[Also Read: Top 6 Benefits of Working With EB5 Doctors Group]