If you have dreams,
we Fastrack them.
Own a practice and get the Green Card in 2-3 years!
EB-5 Visa capital investment amount has been increased to $800K (earlier $500K)
With EB5 Doctors Group, Doctors & Dentists can start with $200K*
While following the USCIS guidelines and considering the EB-5 Visa Investment needs to be "at-risk", we work diligently to avoid any potential pitfalls during the course of visa processing.
New practice is in compliance with USCIS guidelines
Up to 50% Equity in your practice.
 Assistance through the filling process.
Broad Flexibility in funds allocation with our partner DSOs

Initial EB-5 Visa Consulting
We will take a look at your case and share strategies to help plan your budgeting and finances.
This is part of our preliminary consulting procedure, and we'll inform you of the requirements and qualifications necessary for EB-5 Projects. We will take a look at your case and share strategies to help plan your budgeting and finances. We'll also review your case and suggest the best available options that will help you mane smart financial decisions.

Due Diligence
We have made sure our partner DSOs/MSOs have strong financial background and funds provided by them adhere to USCIS guidelines requirements.
Our team will make sure the New Commercial Entity (NCE) in this case the new practice is created as per the EB-5 Visa requirements. Our team of experts encompasses the industry's expert EB-5 Visa Immigration Attorneys, Business Plan Writers, Economists who will make sure your Visa Application is in compliance with USCIS guidelines. We stand behind your dreams – that's why every EB-5 case we've taken on has succeeded.

Dedicated Account Manager to assist you through the entire EB-5 Immigrant Investor Visa process.
An account manager will help you identify things like Targeted Employment Areas (TEA zone) and will work with you, State, or an Economist to obtain the TEA letters and other necessary permits. If you have any trouble filling out forms, preparing legal documents, addressing legal requirements, or anything else – we're here to help.
Own your clinic and get the EB-5 Green Card. No need to wait for years!
Take one step at a time, book a discovery call now!
After extensive research, we were hesitant to pursue the EB-5 Visa route but as we started our engagement with EB5 Doctors Group we got comfortable after initial discussions. The team is professional, efficient, and transparent in preparing documentation and filling the application. Our Visa application was filed in 3 months and I started working in my own practice in a little over 6 months. Totally worth it.
We are fully satisfied with the EB5 Doctors process and approach. The fees were reasonable too. Thanks to the attorney as well for making our case strong, our case was approved in less than 2 years. In terms of the dental practice, we picked our practice location and Sabuska offered flexibility and great mentorship. We highly recommend working with them.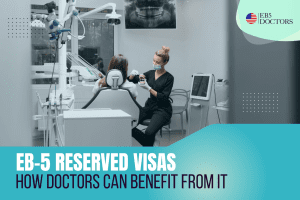 Table of Contents It's Official, Regional Centers (RCs) are back, and along with it the volume of new EB-5 Petitions
Read More »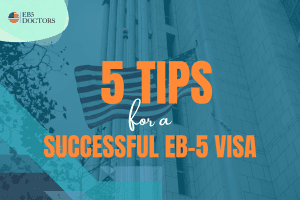 Table of Contents 5 Tips for a successful EB-5 Visa   The EB-5 visa program has in its three decades
Read More »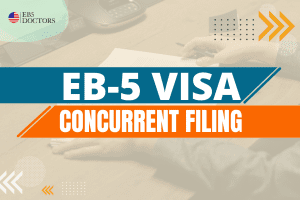 Table of Contents Concurrent Filing for EB-5 Visa EB-5 Visa program enables investors and entrepreneurs to get US green cards
Read More »