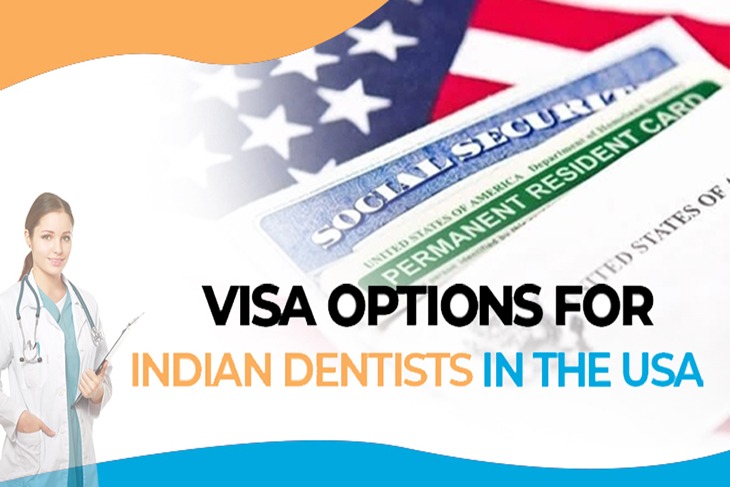 Many Indian dentists aspire to work in the USA, and it's no wonder why. The United States has so much to offer to healthcare professionals such as doctors, nurses, and dentists in terms of career advancement and salary benefits. The country welcomes dentists with open arms to set up their practices and pursue their medical careers.
Even though there is a growing demand for dentists in the USA, getting a US Visa is tricky. If you're an Indian dentist hoping to work in the United States, you need to get a work visa such as an H1-B or J1. This would give a work authorization however to get a permanent residency or green card in the US one would need to apply for the green card separately.
The foremost thing you need to do is, ask yourself whether you want to move to the US permanently or temporarily. It will help you determine whether to apply for an immigrant or a non-immigrant visa.
For example, if you want to stay for a short period, a non-immigrant visa is the perfect solution. On the other hand, if you wish to move permanently, you must apply for an immigrant visa or a green card. In many cases, Indian dentists initially apply for a non-immigrant visa to transition to a green card after some time.
Work visa options for Indian dentists in the US
H1-B Visa
The H1-B visa is a non-immigrant US work visa for an Indian dentist in the USA. It's a "Speciality occupation" visa that permits US employers to employ foreign nationals. The Indian dentists must possess a job offer from an employer in the US to be eligible for this visa type. In addition, you must also hold a bachelor's or master's degree in the field related to your job offer.
Compared to other visa types like EB-5, EB-2, or J1, the H1B visa is the most popular option. Hundreds of people apply for it every year, and therefore, it's pretty tough to get this visa. Besides that, the USCIS has put a cap on the number of H1-B visas issued every year. The USCIS randomly selects the petitions through a lottery system. When selecting petitions, the USCIS will initially select 20,000 applications. The remaining petitions are re-entered into the regular cap, from which 60,000 applications are picked-up. If you hold a master's degree, you get the advantage of playing the lottery two times.
J1 visa
The J1 visa is a non-immigrant visa for Indian dentists and medical students. The visa type is different from H1-B as it requires a sponsoring program from a university that outlines your employment and stay period in the US. The major disadvantage of the J1 Visa type is that it is not suitable for individuals planning to work for an extended period of time in the US.
After your visa expires, you'll need to meet the home residency requirement that requires you to spend two years in your home country before applying for a green card or another visa. You can get a J1 visa waiver to skip the home residence requirement by satisfying a few conditions:
Obtain a "no objection" assurance from your home country.
Signify that you'll get prosecuted if you visit your home country.
Portray that you might experience extreme difficulties if you return to your home country.
Ensure that the US federal agency waives the home residency requirement.
You can even apply for a green card with this visa. However, you'll either have to satisfy the home residency requirement or get a J-1 visa waiver.
Green Card options for Indian dentists in the US
EB-2 visa
An EB-2 visa is an employment-based visa for foreign nationals possessing an advanced degree or exceptional skills in their area of expertise. If you hold an advanced degree to practice dentistry in the US, you must find an employer to sponsor your job, file a petition, and obtain a PERM labor certification.
PERM is a process requiring employers to put multiple ads for the job in the US to check whether there is an American citizen eligible to take on the job. If they do not find any suitable candidate, they can sponsor the visa for you.
EB-2 NIW
This visa type is similar to the EB-2 visa, the only difference being that the applicant will have to apply for a National Interest Waiver. With the NIW, you can self-petition your visa application without the need for an employer to sponsor your visa. It's the best option for Indian dentists who want to set their own practice.
However, you'll have to meet a few conditions to apply for an EB-2 NIW visa.
Exhibit that your work will benefit the overall US economy.
Present proof of your degree, experience, and achievements in addition to a comprehensive business plan.
Prove that waiving your PERM requirement will be beneficial for the US.
EB-5 visa
The EB-5 investor visa is a citizenship by investment program that allows Indian dentists to secure a US green card by investing a substantial amount in the US economy. There are two ways of applying for an E-5 visa. You can either apply as a Direct investment in an American enterprise or through an approved regional center.
Eligibility for an EB-5 visa
A minimum of $8,00,000 investment in the Targeted Employment Area to generate at least 10 American jobs.
Investment of $ 1,050,000 in an American enterprise.
The investment must facilitate the growth of the US economy by supplying goods & services in the local US markets.
The money must be acquired legally.
The investment can be in the form of cash or cash equivalents.
Conclusion
When it comes to employment-based immigration, you would not like to leave anything on chance. Whether for an EB-2 or EB-5, the best way to maximize your chances for approval is to hire an immigration attorney.
The team of experts at EB5 Doctors group have extensive experience helping dentists acquire EB-5 visas through direct investment in the shortest possible time. Our team will develop the best strategy to satisfy EB-5 visa requirements and reduce the processing time.
We can help you obtain an EB-5 visa via direct investment without any delay as we have the experience to cut through the red tape to ensure that you get your visa on time.
Are you ready to take the next step? Book your FREE consultation with us and kickstart your immigration process.