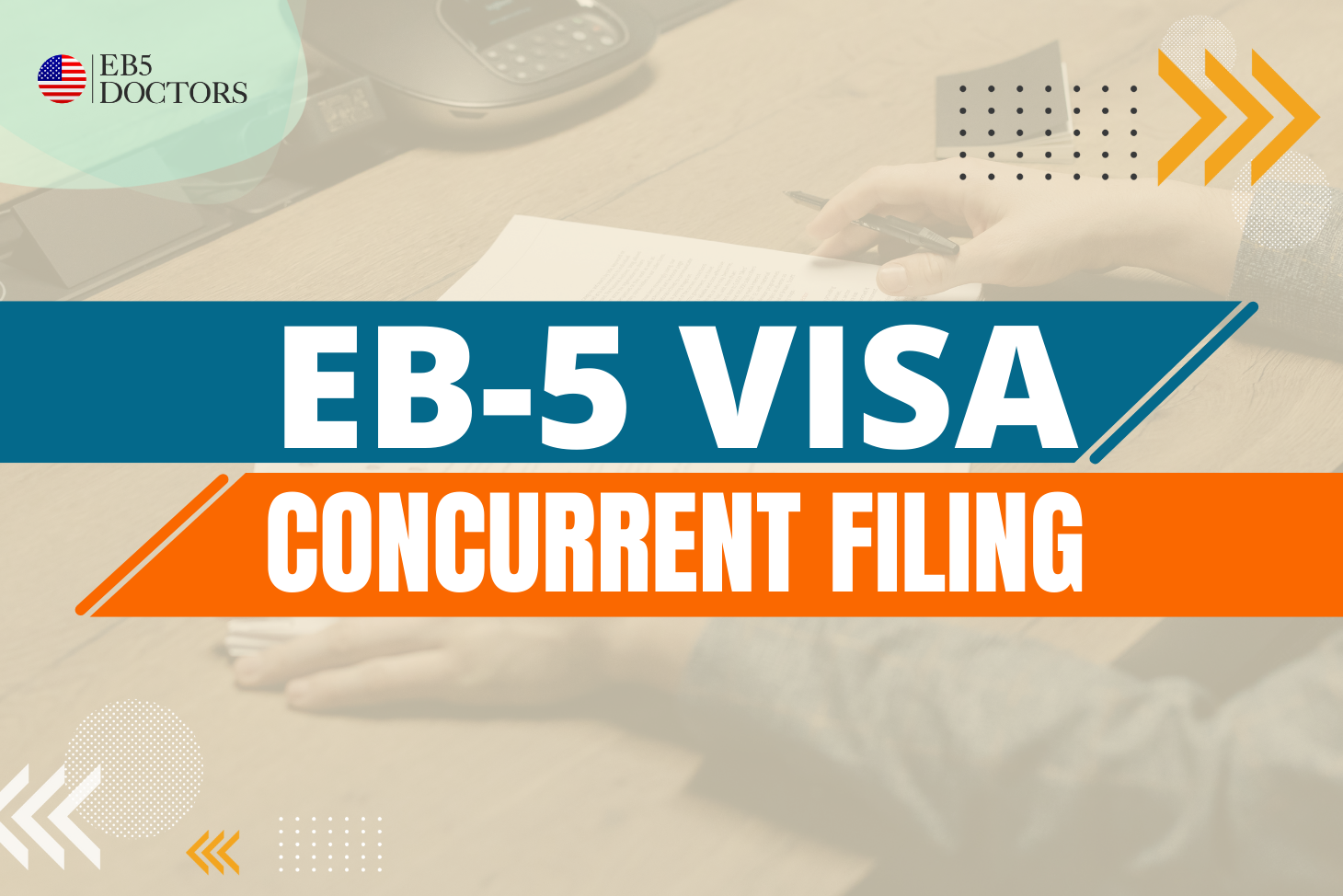 Concurrent Filing for EB-5 Visa
EB-5 Visa program enables investors and entrepreneurs to get US green cards by the route of investment. EB-5 Pathway allows the investor to include their spouse and children under the age of 21 in the program to get permanent residency. 
What is EB-5 Visa Concurrent filing ?
Foreign nationals who are in the US on non-resident visas with current priority dates are eligible to file Form I-526 and Form I-485 to concurrently apply for adjustment of status. The I-485 petition is filed when an investor applies to have their status adjusted to an immigrant category, also known as Adjustment of Status or AOS.
What are the recent updates as part of EB-5 Reform and Integrity Bill 2022?
One of the most important transformations has been enacted around the EB-5 Visa in March 2022 when President Joe Biden signed the EB-5 Reform and Integrity Act of 2022 "RIA" as part of the federal spending bill. This bill introduced "Concurrent filing" for EB-5 Visa, which enables applicants to file form I-526 and form I-485 together. Earlier, the petitioner had to wait till the I-526 gets approved to proceed with the Adjustment of Status (I-485) application.
Who can apply for Concurrent filing ?
The following visa categories will be benefited from the change:
Students who hold an F-1 or F-1 OPT visas, or

Employer sponsor visas such as H-1B, or 

Entrepreneurs who have an E-2 visa 
How will it benefit EB-5 Investors?
Doctors and Dentists who are intended to apply for the EB-5 Visa will experience not only  reduced processing times but also get freedom to work and travel while waiting for the visa approval. 
The major benefits of the concurrent filing are as follows
It qualifies EB-5 investors for lawful permanent resident status while awaiting adjudication of their I-526 petitions.

The applicant and their immediate family members don't have to wait for their EB-5 petition to be approved. They can avail the benefit of Work Authorization (EAD) and travel rights (Advanced Parole). 

The concurrent filing could potentially remove the restrictions with most of the temporary non-migrant visas, which will allow foreign nationals to freely live, work and study in the country.

Concurrent filing will allow immigrant investors to remain in the U.S. while their I-526 petitions are being adjudicated with a pending I-485 adjustment of status application.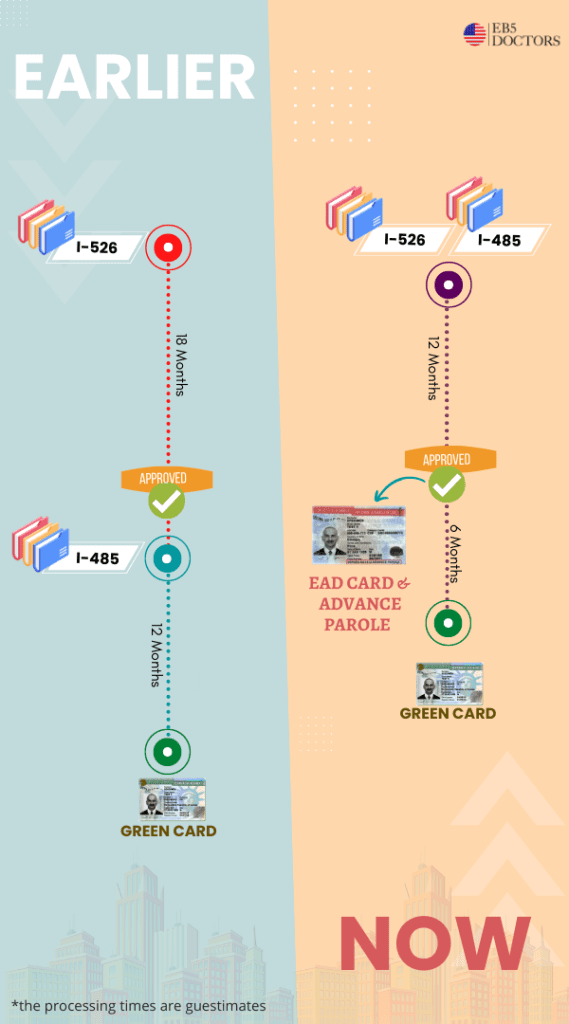 The introduction of concurrent filing provides advantages to all the stakeholders. The certainty, convenience and time saved are the major benefits for the applicants whereas this allows USCIS to process applications faster and clear EB-5 Visa backlogs since they receive all potential immigrant investors' paperwork together.
What is Form I-526 or Immigrant Petition by Alien Investor ?
This is the first application filed by an applicant to communicate with the government their interest in the EB-5 Visa program. This application will collate the business plan, investment resources, job creation details etc. The investments could be made through a regional center program or a direct investment. Upon the successful acceptance of the form, the applicant will become eligible to proceed with the EB-5 Investor Program, the applicant with their family members will be eligible to proceed to apply for a green card or permanent residency.
What is Form I-485 or Application to Register Permanent Residence or Adjust Status ?
Form I-485 is filed by applicants in the United States to apply for lawful permanent resident status. It is common for all types of pathways towards getting a green card, including Residency through investment and Residency through work etc. The applicant has to be in the United States to adjust their status or submit Form I-485.
Do you want to know more about EB-5 Visa Concurrent filing?