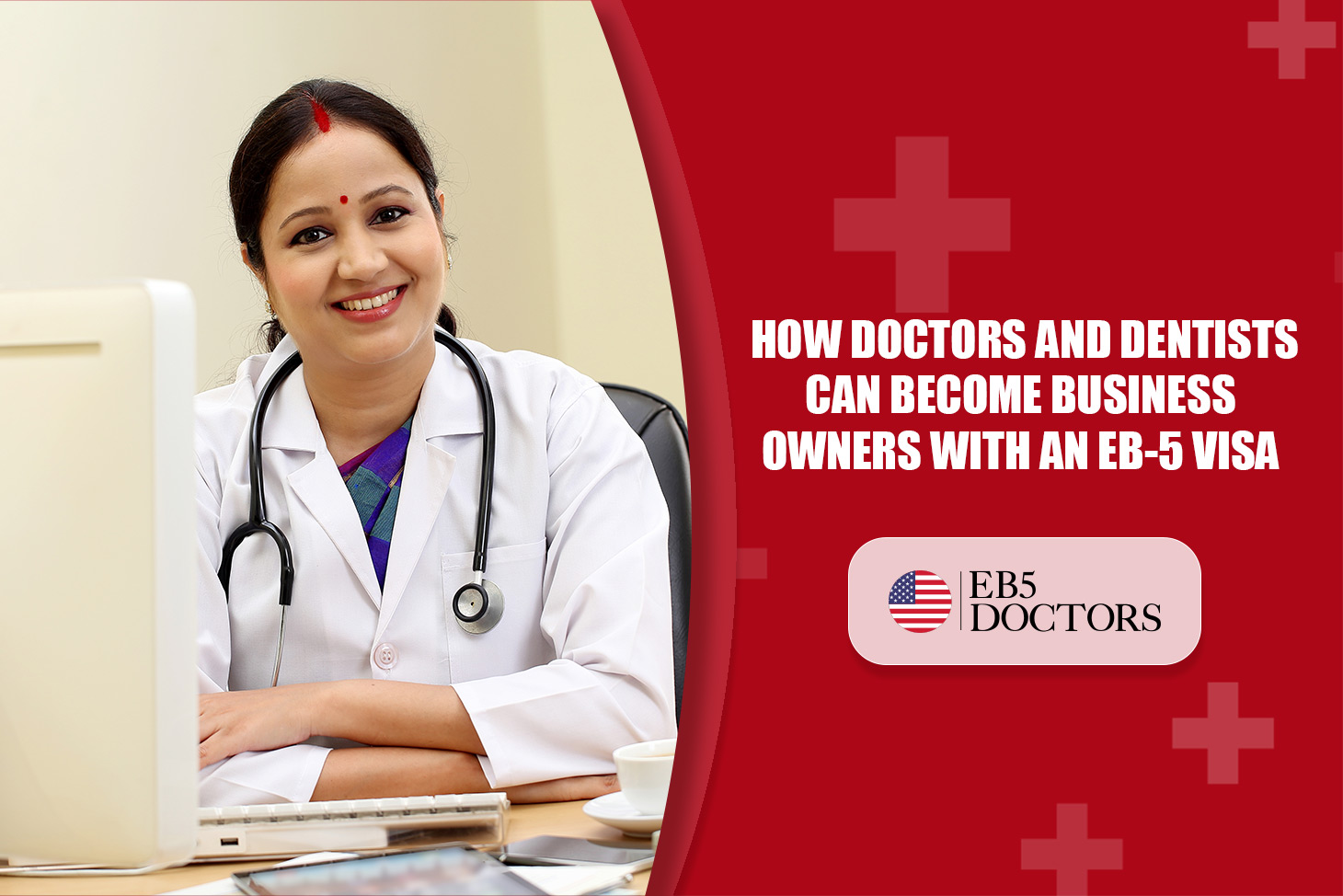 Many doctors and dentists feel unfulfilled working in traditional healthcare settings and aspire to become business owners. The good news is that an EB-5 visa can help make this dream a reality. In this blog post, we will discuss how doctors and dentists can attain an EB-5 visa and use it to become successful business owners.
---

Doctors and dentists are highly respected professionals in the US, but the success of their practice is limited by state licensure regulations, which can be exceedingly costly and time-consuming. To address this issue, many physicians and dentists choose to start their own businesses and become entrepreneurs. However, starting a business is not easy and requires significant financial investment. Fortunately, there is a solution that enables doctors and dentists to start their own businesses and ultimately pursue success and growth along with permanent US residency.

EB-5 Visa Overview
The EB-5 visa is a type of investor visa, which allows individuals to invest in new commercial enterprises in the United States. This visa is available to foreign investors who invest a minimum of $800,000 in an approved project. The investment should create at least 10 full-time jobs for US workers within two years. This visa opens up a myriad of opportunities for entrepreneurs who wish to establish new businesses in the US.
Applying for an EB-5 Visa
The EB-5 visa application process can be daunting, as it requires significant documentation and rigorous preparation. However, with the right guidance and support, it can be straightforward. It's essential to note that the EB-5 program has stringent requirements for successful applications. Investors must ensure that their investments align with USCIS guidelines to avoid delays and denials, and that's where EB-5 regional centers come in handy.
EB5Doctors.com
EB5doctors.com is an experienced agency that specializes in providing medical professionals with the means to a successful EB-5 application. Offering numerous benefits to businesses, such as preapproved investment structures, legal representation, and investment management services. EB5Doctors can also help individuals navigate the EB-5 application process and avoid costly mistakes. Through utilizing EB5doctors.com, physicians and dentists are able to start their EB-5 process much sooner due to the lower upfront costs and have a higher success rate due to the experienced support they receive.
Benefits of EB-5 Visa for Aspiring Business Owners
By investing in an EB-5 visa, physicians and dentists can reap numerous benefits, including long-term capital gain potential, tax savings, and permanent US residency for themselves and their immediate family members. These benefits can aid business owners in achieving their business and personal goals, while also contributing to the US economy.
---

Starting a business can be a critical step in the lives of physicians and dentists, but it's not without its challenges. The EB-5 visa program offers a unique opportunity for foreign investors to invest in new commercial enterprises and secure permanent residency. With its benefits, this program presents an excellent option for entrepreneurs who aspire to succeed in the US. Ultimately, the EB-5 program provides foreign investors with a path to realize their American dream and make significant contributions to the US economy.

This article is for educational purposes. In case of questions please reach out to our team.


How to benefit from Concurrent Filing for EB-5 Visa? Read here
Do you know why It's The Best Time To Choose EB-5 Direct Investment Over EB-2 Visa? Read here
What Is The Future Of The EB-5 Investors Program Looks Like In 2022? Read here