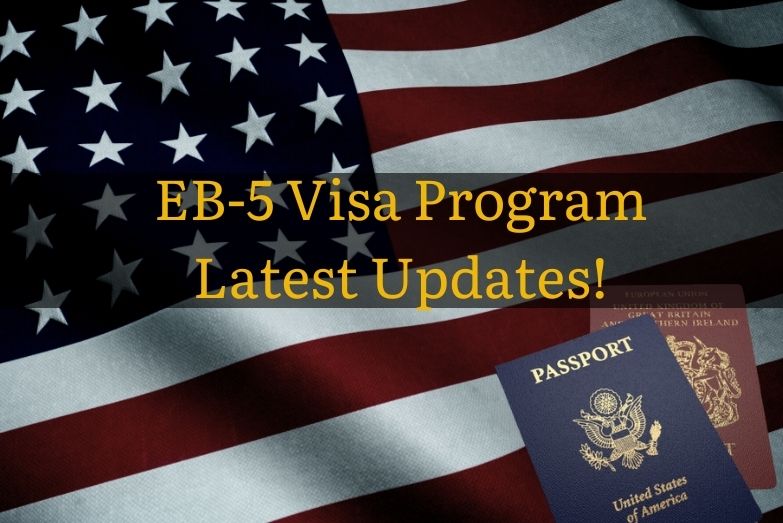 The EB-5 visa program has always been a topic of discussion among highly influential investors worldwide. Though the EB-5 program has a good history, it also had its share of issues and controversies that many people find difficult to fathom. This article will discuss some of the new updates regarding the EB-5 visa after the Consolidated Appropriations Act, 2022 was just released, which includes the EB-5 Reform Bill and Integrity Act of 2022. This bill was passed by Congress and validated on March 12th, 2022. This new law will have significant implications for existing, future, and regional center investors.
EB-5 Reform and
Integrity Act of 2022 reauthorizes EB-5 Regional Center Program
until September 30th, 2027. Since June 30th, 2021, the EB-5 Regional Center Program (a subcategory under the EB-5 Immigrant Investor Program) has been indefinitely suspended by USCIS. Its congressional authorization expired. The new law will allow USCIS the opportunity to resume the processing of EB-5 Regional Center cases that were held in abeyance when the Regional Center Program expired in June 2021. Other new provisions included in Regional Centre Program include:
Disclosure is necessary for third-party agent fees and involvement in an EB-5 project.
Registration with the USCIS is a must for Direct and third-party promoters.
Regional Centers will be subjected to regular audits by USCIS at least every 5 years. They also have to pay annual fees of $20,000, which will be allocated to the EB-5 Integrity Fund.
The new bill also permits EB-5 investors to complete the permanent residence process even if Regional Centers are terminated in the near future.
The law prohibits the denial of petitions based on the expiration of the program. It also directs USCIS to continue allocating immigrant visa numbers for petitioners whose Regional Center-based cases were submitted before September 30th, 2026. This includes cases filed prior to last year's expiration. However, it is unclear when USCIS will accept pending cases at this time.
Minimum Investment Increases
The minimum investment amount for EB-5 projects will be increased to $1,050,000 upon enactment from $1,000,000. The minimum investment for targeted employment areas will rise to $800,000 from $500,000. The Consumer Price Index (CPI) will drive increases in the minimum investment amount required for standard EB-5 projects starting January 1st, 2027, and every five years thereafter. The minimum investment amount for TEAs or infrastructure projects will be increased to 60% of the standard investment minimum.
Allocation of EB-5 immigrant visas
The new law reserves 32% of the annual EB-5 visa quota to specific types of EB-5 projects mentioned below:
20% of EB-5 visas are reserved for foreign nationals who invest within a rural area in the United States.
10% is reserved for foreign nationals who invest in high unemployment areas as defined by USCIS.
Investors in new categories for qualifying infrastructure projects managed by federal, state, or local governments are eligible for 2%.
Visas that are not used in one of the listed subcategories will be made available in the next fiscal year in the same category if they remain unutilized. They will be added to the overall EB-5 quota for the next fiscal year if they are not used.
Grandfathering Provisions
"Grandfathering" means – a grandfather clause or grandfather policy is a provision in which an old rule continues to apply to some existing situations while a new rule will apply to each and every future case. The new law preserves all pre-enactment investors' eligibility as of the date they filed their I-829 and I-526 application. This applies to both I-526 adjudication and I-829 adjudication. Pre-investment Regional Centre investor adjudication and visa allocation are not affected by the immediate repeal of the prior regional center. This would "moot" any pending litigation regarding the "lapse" of prior law.
Adjustment of Status (AOS)
The good thing is new rules and higher investment amounts will not apply to existing investor immigrant petitions. Family members who are legally present in the U.S. may simultaneously apply for an adjustment of status to avoid consular visa processing. According to INA Section 245(k), the EB-5 investor doesn't have to worry about 180 days violations when applying for status adjustment.
Other Provisions
Gifts for investment are permitted and not limited to familial relations.
Source of funds requirements not only apply to capital investments but also administrative fees and any other fees "associated" with the EB-5 investment.
Investors who have an EB-5 immigrant Visa immediately available will be allowed to file their EB-5 petitions simultaneously with their applications for adjustment to permanent residence or an adjustment with a pending EB-5 application. They will be able to apply for employment authorization and travel permits while their cases are pending.
These were some of the updates regarding the new bill passed in March 2022.