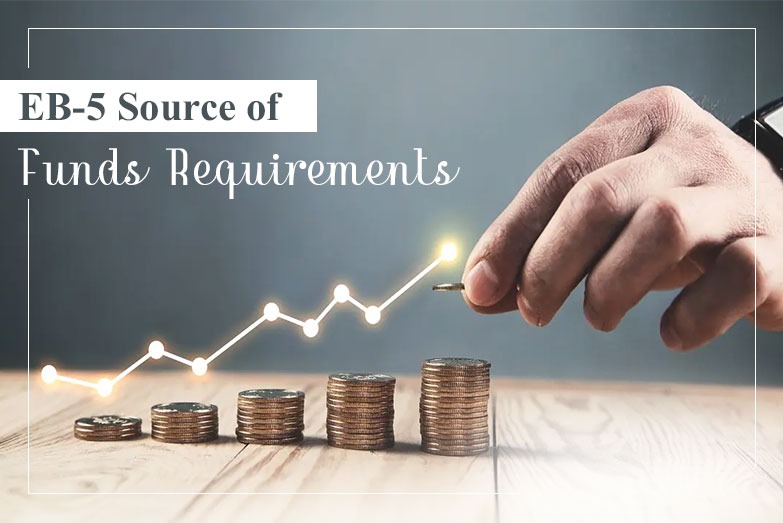 An initial investment in a commercial enterprise is a primary EB-5 visa requirement. The investment must be at least $500,000 in a Targeted Employment Area or $1 million in a non-TEA. According to the United States Citizenship and Immigration Services (USCIS) regulations, investors must provide necessary documentation in their I-526 petition to show the capital for EB-5 investment projects has been obtained/earned through legal means.
The USCIS requires numerous documentation in order to establish the legal source of funds. The process of pathing an investor's source of funds is complex, as the investment often includes merging funds from multiple bank accounts, salaries, and so on to complete the EB-5 investment. USCIS also requires EB-5 investors to ensure that they are the legal source of administrative fees collected through projects. USCIS requires the documentation even though the current EB-5 regulations don't extend the requirement for lawful source funds to the administrative fees.
I-526 petition requires documentation for both the source and the path of funds. The path of funds is a method to prove that an investor has funds in his possession and has transferred them to the United States project. It is often an overlooked and complex part of the EB-5 process. USCIS requires that investors properly document the flow of funds to prove that legal means brought the funds into the project escrow and that they are the actual funds invested.
[Recommended: What Is The Future Of The EB-5 Investors Program Looks Like In 2022?]
What are the Various Fund Sources Recognized by USCIS?
The USCIS recognizes many sources of funds. It also recognizes international, local, and cultural business and professional activities as long as they are legal and conducted through appropriate banking and financial channels. Here are some of the accepted sources of funds for EB-5 petition:
Employment earnings
An investor can fund their investment in the EB-5 project by obtaining legal employment earnings. A prospective EB-5 investor must be able to show multiple years of tax returns in order to document earnings properly.
Your annual earnings will determine how many years of tax returns to include. To prove that your EB-5 investment comes from accumulated earnings, you must include multiple years' worth of tax returns if your annual earnings exceed $200,000. You may also need pay-stubs or a letter from the employer confirming your job duties and your salary.
Proceeds from the Sale of a Property
Capital obtained by selling a property is another source of EB-5 funds. It is essential that you have a copy of any purchase and sale agreements in case you intend to use the proceeds of the sale of your property. Bank statements that prove the transfer of funds from the buyer's account to your account are also required.
The USCIS will also want evidence that you have the funds to buy the property. USCIS requires proof that the property was purchased originally with legally obtained funds. If the property was bought with accumulated earnings from employment, USCIS might request evidence, such as bank statements or tax returns, to prove the earnings. If you are unable to prove the purchase funds, be prepared for a detailed explanation.
[Recommended: Why Hire An Experience Immigration Consultant For The EB-5 Investment Visa?]
Gift from an Individual
An EB-5 investor can also fund their investment with funds gifted by a friend. You should also include a signed declaration from the person who gifted the funds if you plan to use them as part of your Visa By Investment USA. This statement should state that the beneficiary of the gift is not expected to repay the funds.
Also, you will need to document the source of the gifting funds. Suppose the funds were initially earned from employment income. In that case, the I-526 petition must include several years of tax returns, detailed information about the gifting party (consisting of a resume, employment verification letters, and other relevant documents).
Lending
Two types of loans are eligible to be EB-5 funds sources: Institutional and individual loans. The loan cannot be secured by the assets of the EB-5 business, also the loan be unsecured.
You should clearly document the source of the loan you are receiving from an individual. This can be done through tax returns or declarations and other similar evidence.
Inheritance
Inheritance is another common source for EB-5 investment projects. The problem with inheriting funds is that they may have been received years before you applied for an EB-5 visa. These situations call for evidence to show the relationship between the parties.
To prove the source of funds, it is important to provide the following evidence: bank statements, wills, probate court documents, and any other relevant evidence. If direct evidence is not available, it is a good idea to include detailed declarations from people who have personal knowledge about the inheritance. These individuals include the lawyer and the EB-5 investor.
Are Multiple Sources of Funds Acceptable for One Investor Application?
An EB-5 investor can use multiple sources to meet the EB-5 investment requirements. Each source and each transfer must be legal and authenticated. Suppose you use a lot of sources for funding your EB-5 project. In that case, you are giving the USCIS officer a lot of work and creating more opportunities for delays and misunderstandings in documenting the legal sources. This can be time-consuming, cumbersome, and complicated. Try to keep it simple! EB-5 investments are easier to document when only one wire transfer is required.
Conclusion
One of the most critical aspects of the EB-5 visa is the source of funds requirement. You should carefully prepare the documentation explaining your EB-5 source and path of funds if you are looking to obtain a green card via the EB-5 visa program. We at EB5 Doctors Group help prepare documents and verify the paperwork for you, contact us for more information on how we do it?
[Also Read: Top 6 Benefits of Working With EB5 Doctors Group]