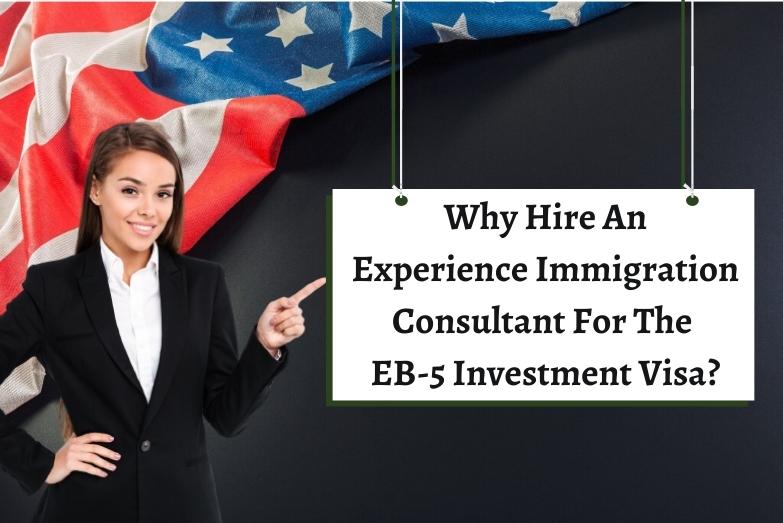 An EB-5 Visa is a great option if you are looking for an EB-5 green card or want to start a business in the United States. The EB-5 Visa requires you to invest either $500,000 ( in "targeted employment areas" or "TEA") or $1 Million (in non-TEA areas). Each year, 10,000 green cards are made available by the U.S. government. The cap has never been exceeded. This Visa has a key advantage: getting a green card quickly. It is also a complex area of law and requires extensive documentation to complete the Visa petition.
U.S. immigration is almost never quick or easy. There are multiple aspects including: getting all the necessary papers prepared, applying for visas, meeting with immigration officers, responding to emails and queries, and many other tasks. Although it may seem easy to do all of this work on your own, it is not as simple as it appears.
A certified EB-5 visa expert helps you find the solutions you need in a proficient way. Consulting EB5 Doctors Group will give you the advantage needed for a hassle-free way to get a green card.
[Recommended: Indian Doctors Path To Green Card And Permanent Residency In The US]
1. Hire the ideal consultant to get the right knowledge
The entire process of applying for a visa and obtaining immigration status can be complicated. The EB-5 process includes many pathways, documents submissions, and so on. It is difficult for beginners to understand the terminology and keep up to date with the latest immigration rules, as they change every year.
You don't have to worry about anything, as Immigration consultants like EB5 Doctors Group are available to help you navigate the visa process. With extensive knowledge and experience with such cases, they can increase your chances of getting visa approval and avoid RFEs. An immigration expert will manage the entire process for you, so you'll be in good hands.
For a trouble free visa process, two-way communication is required between the applicant and the immigration authority. If you hire a consultant after trying the process on your own, you know the frustration involved with dealing with all the visa requirements.
A consultant can help you to deal with government processes easily. You can follow up on visa applications, make credential assessments and respond to urgent questions.
Besides, there are times when rejection happens even if all of your documents are accurate. An experienced and qualified consultant can help you clarify your rights and dispel any misconceptions.
3. Hire immigrants consultant to save time
EB5 Doctors Group's consultants are specialists in EB-5 immigration visa in the USA. By hiring us, you can save your precious time that gets wasted on details such as doing the same work, going back and forth on paperwork, answering emails, investment processing, worrying about how to start a business in the U.S, visiting immigration offices, etc. The application process can be quite taxing for someone who is going through it for the first time. Plus, you can also know what happens during an immigration interview, which further saves time on preparation.
It doesn't matter how you look at it; the immigration process can take months. All the extra work mentioned above can lead to further delays. It is a smart decision to seek the assistance of a qualified immigration consultant. This will allow you to continue with your day-to-day tasks at the same time, consultants will handle your immigration process.
4. Verified documentation and process
Did you know that even one miss-representation in the documents could prevent you from getting an EB-5 Visa? If they discover that your documents do not relate to your shared information, the U.S. authorities may declare you a fraud. An immigration consultant will verify your documents by an expert and trusted agent before submission.
5. Deal with roadblocks
Immigration consultants are patient and attentive to details. They will track your application and ensure that your documents are up-to-date.
Your consultant will help you resolve any issues with documents, investment, and getting the funds necessary to start your EB-5 project. Your consultant will assist you in appealing a decision made by a visa officer.
Consulting can give you peace of mind. They can help you avoid or solve any problems that may arise during the immigration process.
6. Consultant oversees your appeal
You submitted an application without representation, which can result in a refusal by authorities. Whereas, a consultant evaluates your case thoroughly. They'll supervise the appeal if they feel your case is eligible for success. During the appeal process, consultants represent you with a motive of getting you the green card.
7. Uphold privacy
The internet offers an abundance of information on this topic which can be confusing sometimes or too promotional. You can find answers on government websites, immigration blogs, and forums about the EB-5 visa process. You might not post your personal situation on such sites and want to keep your immigration journey personal. Privacy is required for questions involving your finances, your family, your employment status, or a medical condition.
Consultants provide a secure environment that protects your privacy. They will keep your private information safe. We at EB5 Doctors Group are committed to keeping your information safe and secure.
[Recommended: Top 6 Benefits of Working With EB5 Doctors Group]
How Can EB5 Doctors Group Help You?
Help the investor with completing all documentation required for the EB-5 visa petition.
We will help you obtain the EB-5 green card in 2-3 years and sponsor your H1B visa until required.
Assist the investor in finding the best place to start your medical practice.
Have connections with DSOs and MSOs, who help you set up your medical practice.
We are partners with various funding agencies and help the investor meet the required capital for EB-5 investment to start the business, if necessary.
Assist the family member and investor in entering the United States and establishing legal permanent residence here.
We help the investor and their family in removing the conditions from permanent resident status in the three months immediately following the start of permanent residence.
Prepare the investor and their family members for an interview by USCIS and the Department of State.
Conclusion
Our EB-5 immigration consultants are experienced in helping the best and brightest minds in the business to obtain lawful permanent residence. Our EB-5 attorneys work with business owners to help them determine the best options for developing projects that are eligible for EB-5 investment. Call us to start your business today in the U.S. at just $100,000 today.
Contact our team of EB5 Doctors Group today to learn more about how you can apply.