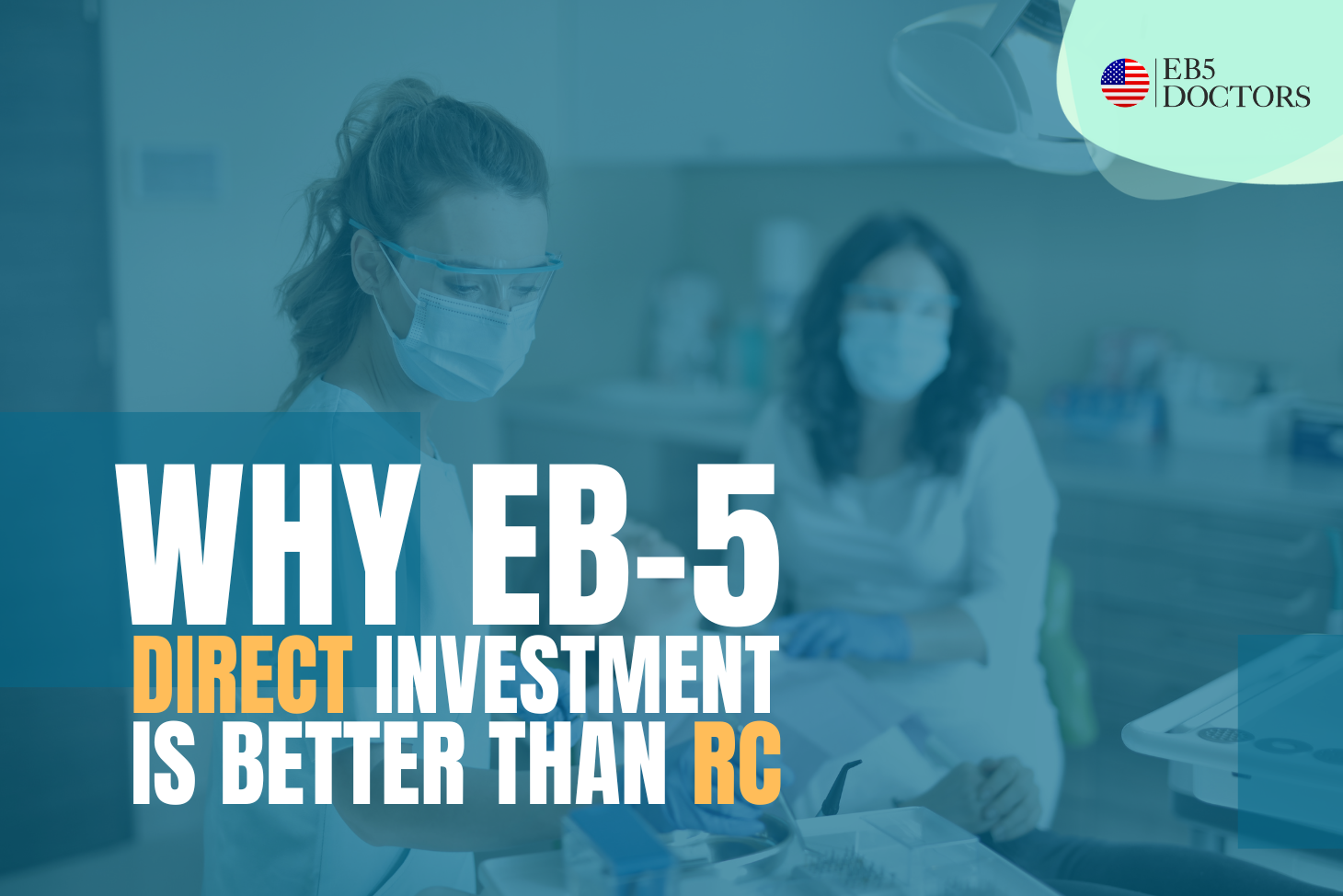 Why EB-5 Direct investment is better than Regional Center
The EB-5 investment visa enables foreign investors to get permanent residency in the US by investing in a business that produces or maintains at least 10 full-time jobs. Because it offers an option of acquiring a green card that facilitates them to live and work in the US, the EB-5 visa program has grown in popularity among overseas investors as well as people holding immigrant visas. In addition, compared to other investment visas, the EB-5 visa's investment requirement is comparatively modest. The EB-5 visa program also offers foreign investors a way to expand their investment portfolio and gain access to new business possibilities in the US.
What is a Regional Center ?
The EB-5 Regional Center Program is a popular way for foreign investors to obtain a green card in the United States by investing in a commercial enterprise. A Regional Center is an organization or entity that has been approved by the USCIS to promote economic growth and job creation through EB-5 investments in a specific geographic area. A Regional Center is a key player in the EB-5 investment program in the United States. It enables the pooling of capital from multiple investors into a single project through a New Commercial Enterprise. An NCE can be a public entity, private entity, or a combination of both, and is used to simplify the investment process for foreign investors. The Regional Center acts as an intermediary, facilitating the consolidation of funds and streamlining the process for both investors and the NCE. By pooling resources, the NCE can benefit from a larger pool of capital, making it easier to fund large-scale projects and promote economic growth.
What is EB-5 Direct Program ?
The EB-5 Direct program lets foreign investors invest in a commercial entity. A direct EB-5 investment is one that is made without the assistance of a regional centre. Direct investment options include starting a new business, buying an existing company or purchasing equity in an existing enterprise. This type of investment provides more control and independence to the investor as they are directly involved in the business. However, it also requires more effort and research compared to investing through regional centers.The investment amount should at least be $1,050,000 or $800,000 in a targeted employment area (TEA) and must be involved in the day-to-day management of the enterprise.
What is EB5 Doctors?
'EB5 Doctors' provides white glove services to dentists and medical professionals in making seamless direct investments that qualify for EB-5 Visa. Our concierge services include but nor limited to EB-5 Visa consulting, comprehensive support, pool of inhouse/partnered experts and end to end project management.  EB5 Doctors offers an exclusive program for qualified dentists where they and their families can obtain Green Card with a lower investment amount. The goal of EB5 Doctors is to provide a turnkey-like solution for investors, enabling them to make a successful investment in the US with the minimum amount of hassle and risk.
EB-5 Direct investments are ideal for dentists and doctors rather than the regional center program because of the following reasons. 
Investment Amount and Convenience
RC & EB-5 Direct Investment program's minimum investment amount is $1.05 million or $800,000 must be invested to launch a new business if it's in the Targeted Employment Area ( TEA) 
but with the 'EB5 Doctors' the qualified investor can invest a minimum capital of $200,000* and pursue the EB-5 Visa. The investor has more control over the investment and can make choices that are consistent with their investment objectives because they are actively involved in the day-to-day operations of the business.
EB5 Doctors provides extensive support for the investment and management of the firm and legal matters. This means that the program offers a comprehensive package of services and support to assist investors in every step of the investment process. This includes identifying suitable investment opportunities, conducting due diligence, negotiating and structuring the investment, and managing the investment on an ongoing basis. The program also provides support for immigration matters, including the preparation and filing of the green card application and any necessary follow-up or appeal. 
Read more about the benefits of Direct Investment.
Faster Processing Time
Since we exclusively work with Healthcare Professionals and all of our investments are in Medical or Dental projects which at often times qualify for EB-5 Visa Expedite Approval.
While premium processing is a service offered by the USCIS for certain types of immigration applications, the EB-5 category is not one of them. However, it's important to understand that expedited processing is a separate service that is available for EB-5 petitions. Expedited processing allows for an investor's petition to be placed at the front of the queue for adjudication and approval, ahead of non-expedited petitions. Expedited processing of an EB-5 investment project can reduce processing times significantly , even from years to months.
If the location qualifies for TEA as well as fall under medically underserved area the project an expedite request can be raised with the USCIS which results in faster visa processing. Expedite Request doesn't assure an approval but it puts the visa application ahead in the queue. 
Job Creation 
The EB-5 investment must at least preserve or generate 10 full-time employment for American employees within two years of the investment. The good news is that investor can easily achieve this requirement for your own dental or medical office. 
Earn Equity and better ROI
EB-5 Direct Investment offers several advantages over the Regional Centre program. The key difference between the two is that in EB-5 Direct Investment, the investors become equity holders, whereas in the Regional Centre program, they are passive investors with no ownership in the underlying business. This means that in EB-5 Direct Investment, the investors have a direct stake in the success of the business and can participate in its growth and profitability through profit sharing.
The main advantage of EB-5 Direct Investment is that the investment appreciates over time as the business grows. This provides the investors with a better cash flow through profit sharing, and gives them a direct financial return on their investment. In the Regional Centre program, however, the investors do not have any direct financial return on their investment and are not directly involved in the management or growth of the business. In contrast, the Regional Centre program offers nothing more than faster access to the green card. Investors in Regional Centres do not have an ownership stake in the business, and do not participate in its growth and profitability.
Read More about the in-depth comparison of Direct investment income generation with other pathways.
Flexibility 
The EB-5 Direct Investment program does not require the investor to invest in a specific geographic area or industry, providing more flexibility to the investor to choose the investment opportunities that align with their investment goals and risk tolerance. 
Investors can pick an industry to invest in, such as healthcare, real estate, manufacturing, or finance, as well as whether to invest in a new firm or the growth of an existing one. Investors have the option of investing anywhere in the United States, as well as in a Targeted Employment Area (TEA), which can be either rural or have a high unemployment rate. Five full-time jobs must now be created as a result of the investment in TEA.
The level of participation an investor wants to have in the business management is up to them. While some investors might like to be active participants in the company's management, others could prefer to take a more passive approach.
If you are a Dentist or Doctor ,EB-5 Direct investment through EB5 Doctors would be a better option for you.
Investors can gain additional benefits through the EB5 Doctors Program, including a lower investment threshold and a more flexible approach to investing in the United States. Additionally, it promotes hassle-free planning, investment and management of the business. The EB5 Doctors provides a streamlined process for investors, reducing the time and effort required to complete the investment process. It also offers support and guidance throughout the process, helping investors navigate the complexities of investing in the US. 
Another advantage of the EB-5 Doctors Program is that it offers a quicker path to obtaining a green card. In contrast to other visas, the program allows investors who make direct investments in commercial enterprises. This means that investors can more rapidly achieve their goal of becoming permanent residents of the US.
However, it's important to note that the investment amount needs to be "at-risk" and the investor should conduct thorough due diligence before making any investment decision and also consult with a qualified immigration attorney to ensure that they meet the requirements of the EB-5 program. 
This article is for educational purposes. In case of questions please reach our team.
Know more about EB-5 Visa