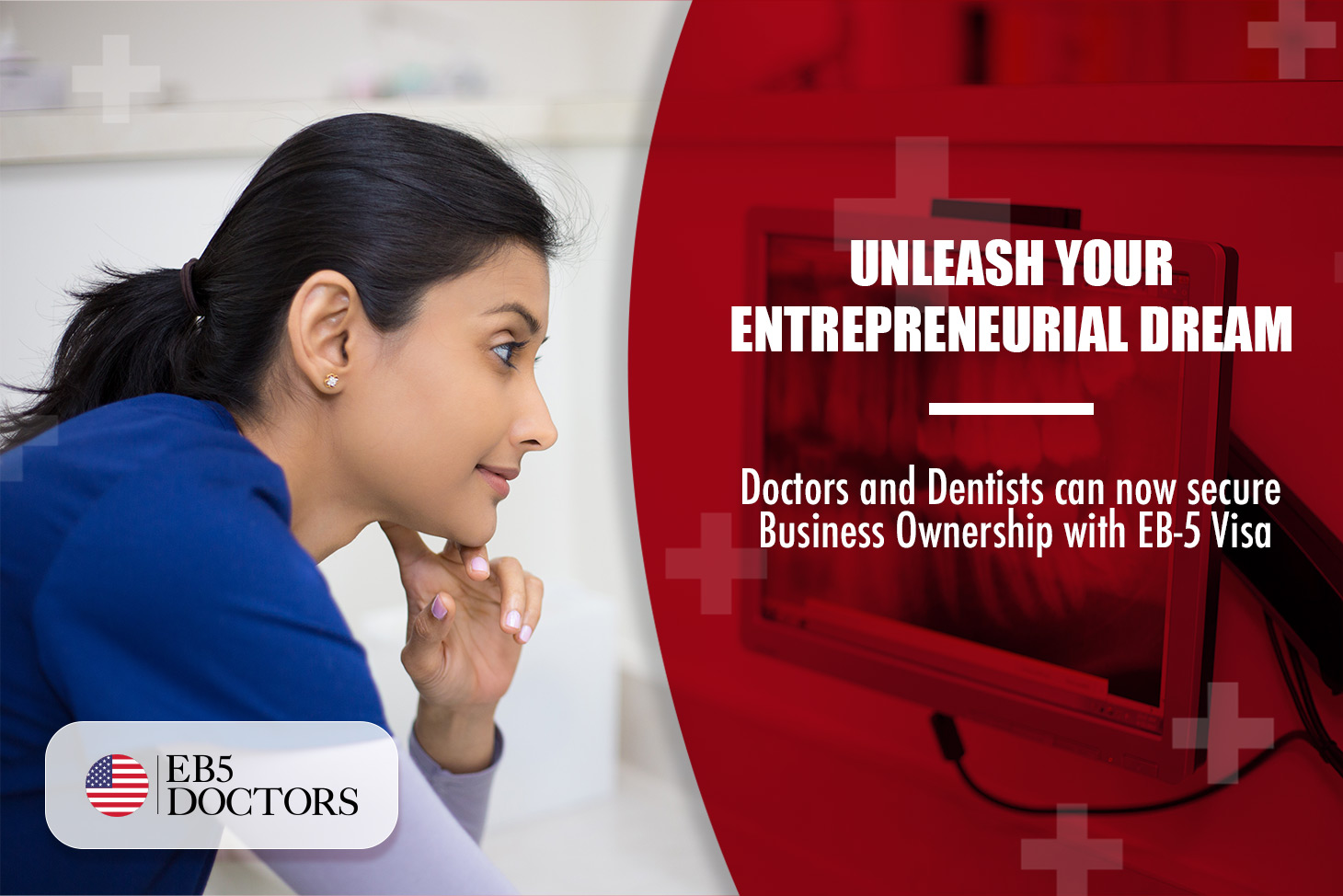 When you're a doctor or dentist with the ultimate goal of starting your business, the burden of securing a loan can be overwhelming. Especially if you have many other expenses to take care of, you may never have the courage to step out of your comfort zone and start your business. However, with the eb5doctors, the financial burden is lifted, and you can finally launch your entrepreneurial dreams. The EB-5 visa and EB5 Doctors' support enable you to secure business ownership without worrying about making the entire investment alone. So, if you are a doctor or dentist trying to start your business, keep reading to discover how to unleash your entrepreneurial dream.
---

Doctors and dentists aspiring to start their own businesses in the US have a solution to secure immigrant visas and establish their entrepreneurial dreams. Through the EB-5 visa program, medical professionals can secure a green card by investing in an American enterprise, creating at least ten jobs for US workers, and investing a minimum of $900,000. This blog post will provide a comprehensive overview of the EB-5 visa program and its benefits, especially for medical professionals seeking to own their businesses in the US.
1) What is an EB-5 Visa?
The EB-5 visa program was launched in 1990 by the United States Government, with the aim of creating employment opportunities for Americans and attracting foreign investment. The visa program grants an investment benefit to foreign nationals who invest a minimum of $1M in a US commercial enterprise that creates 10 full-time jobs for American workers. The investment must be for a two-year growth period. This visa program has been highly regarded worldwide, and so far, it has generated employment for over 174,000 US citizens.
2) How does an EB-5 Visa Benefit Doctors and Dentists Looking to Start a Business?
Doctors and dentists can leverage the EB-5 visa program to start their businesses without risking financial ruin. Many doctors and dentists have significant expenses while consolidating their student loans and building their practice. By choosing to invest in a US business enterprise through the EB-5 visa, it becomes possible to gain expansive profits and generate employment opportunities. This investment gives doctors and dentists less risk and more flexibility, allowing them to use their resources to expand their business interests without worrying about their own employment status.
3) Procedure for Obtaining an EB-5 Visa for Business
The EB-5 certification process demands that investors identify and provide proof of an investment plan that effectively establishes their new enterprise. Dentists and doctors should conduct thorough market research, create a business plan, conduct financial analysis, and list a personal background report.
Once all these documents are prepared thoroughly, the investor's application is reviewed, and approved investors can get conditional permanent residence in the US for two years. Once the EB-5 visa holder reaches their two-year mark, they can apply to convert this conditional residence status into a permanent lawful permanent resident (LPR) status.
4) Benefits of Owning a Business Through EB-5 Visa
Through the EB-5 Visa, dentists, and doctors can own their businesses without worrying about risking everything they've already invested into school and practice. It provides excellent ROI, generating benefits for the investor, their families, and workers. For doctors and dentists, it allows them to create practices and establish themselves in the US. the EB-5 visa program opens up the opportunity to expand and grow.
---

In conclusion, the EB-5 visa program is an excellent opportunity for medical professionals who dream of owning their business in the US and securing a green card. It is a great option for them to pursue their career and dreams while avoiding some of the risks associated with starting a business alone or in their native country. The visa program provides access to capital, an easier path to residency, and helps build successful businesses in the US market. With the right planning, guidance, and support, one can achieve success with this program.

This article is for educational purposes. In case of questions please reach out to our team.


How to benefit from Concurrent Filing for EB-5 Visa? Read here
Do you know why It's The Best Time To Choose EB-5 Direct Investment Over EB-2 Visa? Read here
What Is The Future Of The EB-5 Investors Program Looks Like In 2022? Read here