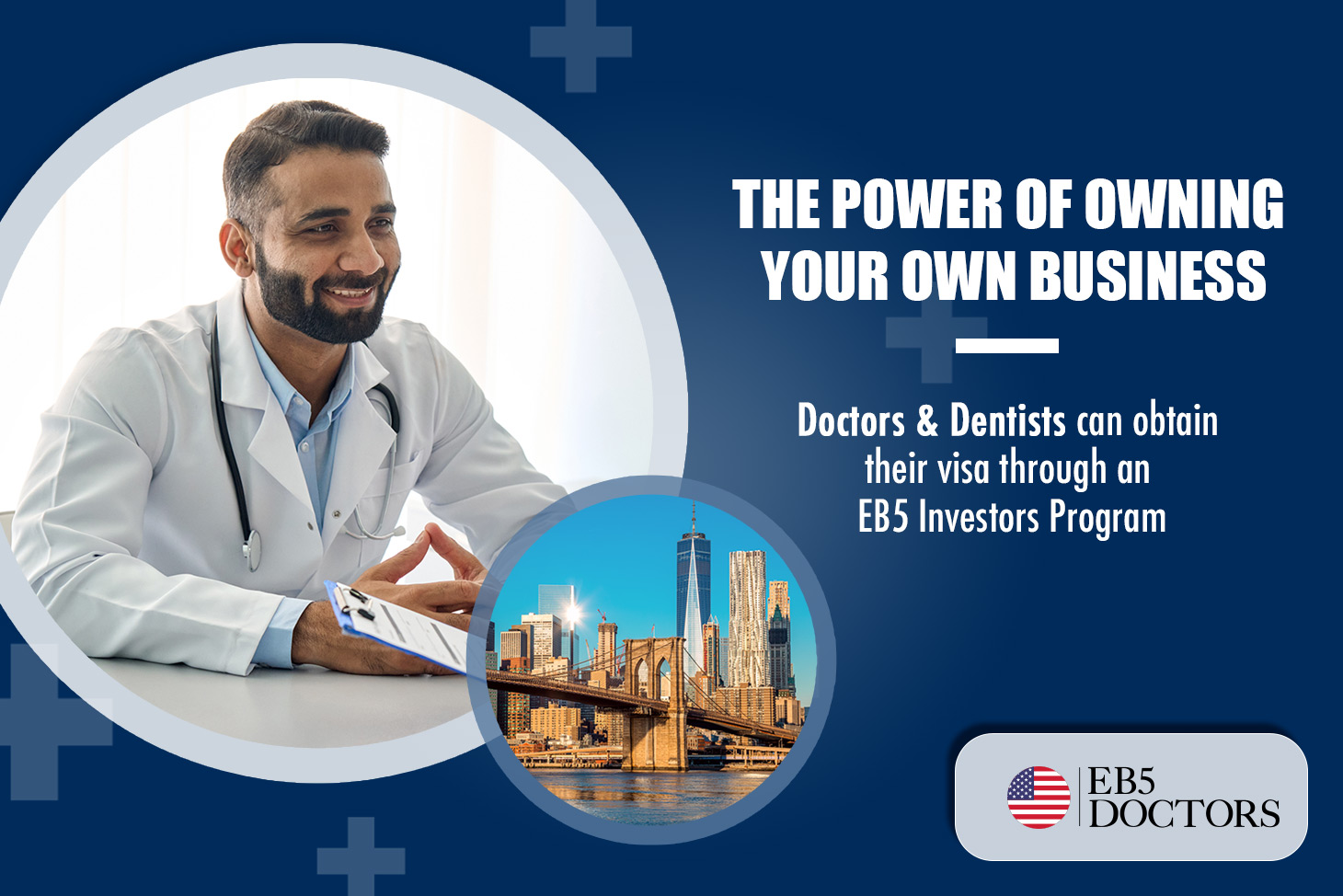 Are you a doctor or a dentist seeking to make a mark in the United States? If so, you may face unique challenges as an immigrant seeking to establish yourself in these industries. However, owning your own practice brings with it an opportunity to divert away from looking for sponsorship and managing immigration along with finding the right income you need. It can be a rewarding move that comes with several advantages, not just becoming a business owner, but also obtaining a visa.
---

In the United States, owning a business is one of the most powerful things you can do. As a doctor or dentist, owning your own business can be even more beneficial, allowing you to work on your own terms and have more control over your career trajectory. However, as a foreign national, the road to business ownership can be complicated. In this blog post, we'll explore the EB-5 visa program, which allows foreign nationals a pathway to permanent residency in the United States through investment. Specifically, we'll discuss how doctors and dentists can take advantage of this program to pursue their business ownership dreams.
Control
Firstly, owning your medical or dental practice gives you a sense of ownership and control in your career growth. Unlike working for a corporation or hospital, owning your practice allows you to call the shots and decide how you want to manage the practice. You're not just an employee, but rather a business owner, allowing you to create a unique and personalized patient environment. 
Financial Benefits
Another advantage of owning your own medical or dental practice is the financial rewards. Starting and owning your practice allows you to keep the profits of your work. You can earn what you deserve and invest the money into your personal and professional life, such as buying a new home, expanding your practice, or pursuing your passion projects. 
Personalized Care
Additionally, as an independent business owner, you can offer your patients a more personalized level of care, which fosters patient trust and loyalty. By creating a strong patient base, your business will grow and receive positive publicity through word-of-mouth. 
Stability
Moreover, owning your own medical or dental practice creates a sound investment for long-term financial stability. The EB5 program enables you to invest your money in a secure project, allowing you to navigate the multifaceted US banking system. Additionally, owning a medical or dental practice increases the value of your investment and allows you to take advantage of tax breaks that can scale up your overall revenue.
Permanent Residency and Citizenship
The EB5 program provides a quick and straightforward path to a green card, allowing you to begin building wealth. Within only a few years of running a successful practice, you can become qualified for a green card, allowing you to settle in the country and practice your profession with total independence.
---

Overall, the EB-5 visa program can be an excellent option for doctors and dentists seeking to own their own businesses in the United States. This program offers a clear path to permanent residency while also providing financial benefits and professional autonomy. By doing your research and carefully crafting your business plan, you can take advantage of this program and achieve your business ownership dreams.
If you're a doctor or dentist who has always dreamed of owning your own business, the EB-5 visa program can make that dream a reality. By investing in a new or existing business, you'll not only have the opportunity to pursue your passion as a medical professional, but you'll also gain financial freedom and autonomy. As with any major investment, it's important to do your research and carefully plan out your business strategy before applying for an EB-5 visa. However, with the right preparation and guidance, you can take advantage of this powerful program and make your business ownership dreams come true.
EB5 Doctors' team of experienced professionals will guide you through every step, from selecting the right investment project to preparing and submitting the necessary documentation. With our in-depth knowledge of immigration regulations and a vast network of trusted partners, we can help you make informed decisions and maximize your chances of success. Trust EB5 Doctors to be your advocate and guide as you embark on this transformative path toward permanent residency in the United States.
This article is for educational purposes. In case of questions please reach out to our team.


How to benefit from Concurrent Filing for EB-5 Visa? Read here
Do you know why It's The Best Time To Choose EB-5 Direct Investment Over EB-2 Visa? Read here
What Is The Future Of The EB-5 Investors Program Looks Like In 2022? Read here