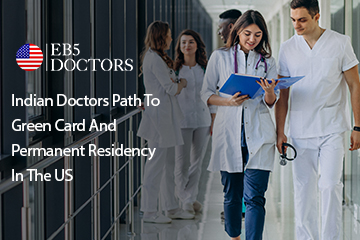 One in 20 American doctors is Indian-American. According to statistics, Indians make up the largest non-caucasian group in the American medical community. It is not surprising that many Indian medical professionals like doctors, dentists, and veterinarians want to work as permanent doctors in the United States. This is a promising career path that offers many opportunities for professional advancement and success.
It's a huge decision and one that can be difficult. Relocating to the US will mean a new beginning, cultural differences, and working in a highly technical, competitive, and complex field like medicine. You may be able to make an informed decision before you decide to move.
There are several available visa options for a foreign national doctor or a dentist to work in the US but just a few offer the freedom to start your own practice. Some of the options are:
H-1B – The H-1B visa is a work permit that allows immigrant workers to go to the US and work for American companies in specialty occupations. The immigrant must specifically work in a field that requires specialized knowledge, for which the employer cannot find a US-based worker. A specialty occupation requires the application of a body of highly specialized knowledge and technical expertise in specialized fields like IT, finance, medical, accounting, architecture, engineering, mathematics, science, and so on. The H-1B visa can be used for professional jobs that require a bachelor's degree or more. You may be able to show that you have the equivalent degree through work experience or other qualifications if you don't hold a bachelor's degree. The US employer petitions for the H-1B Visa in the US, and it has a duration of up to 6 years.


EB-2 – The EB-2 Visa or Employment-Based "Exceptional Ability" or Advanced Degree Permanent Resident/Green Card is for those who have an advanced degree or comparable or "exceptional capability" (expertise significantly above that ordinarily encountered) in sciences, medicine, or business. It is the second preference for medical professionals looking to work in the US. An EB-2 visa may be available to a person who has a bachelor's degree or equivalent and five years of experience. Anyone with exceptional ability is someone who has a higher level of proficiency in their field. You can prove this by obtaining awards or work experience. People who work in the United States' national interest can also apply for the EB-2 visa. Healthcare professionals could be eligible for this visa if they work in areas with low resources. The EB-2 visa is a desirable permanent / green card visa because approval takes less time than EB-3. However, it is scrutinized more closely.


EB-3 – The EB-3 or Skilled Professional or Other Worker Permanent Resident/Green Card third-preference employment visa for doctors. This visa is available to professionals, skilled workers, as well as unskilled workers. A professional is someone with a bachelor's degree or higher (or equivalent foreign education). Skilled workers must have 2 years or more of work experience. People with less than two years of relevant work experience are called unskilled workers.


EB-5 – The EB-5 Visa, which is the USA's version of a Golden Visa. The EB-5 Visa allows the holder to work, study, or retire in the US without the need to find an employer. Like other types of Golden Visa, you will need to make a substantial investment in the US if you want to obtain a US EB-5 Visa. This visa is for highly wealthy internationals with a desire to obtain a Green Card or American citizen. This visa is only available to those who have invested at least $900,000 (now reduced to $500,000). They must also create at least 10 American jobs.
If you are accepted for the EB-5 Visa program, you will receive a Green Card in 2-3 years. Your dependent family members can be included in your application. This allows your spouse and children also to receive Green Cards. Only 10,000 EB-5 Investment Visas are issued annually by the US. This includes visas for family members.
In order to get assistance with the required paperwork and procedures of getting an EB-5, hiring consultants like EB5 Doctors Group, who specialize in these matters is necessary.
What is The EB-5 Direct Investment Program?
Direct EB-5 investment means that you start your New Commercial Enterprise (NCE). The investment should be in the USCIS approved TEA (targeted employment area) to qualify for lower capital investment of $500K.

Additionally, you must prove that your investment has directly created at least ten new jobs. You must also have a direct role in the company.
Why Should Healthcare Professionals Make An EB-5 Direct Investment?
Recent developments in the EB-5 industry have prompted investors to focus their attention on direct EB-5 projects. In 2021, direct EB5 investments will become more common. The EB-5 program enjoys a high level of popularity. Many foreign nationals see the EB-5 program to be the best and fastest option to get a green card. Even though the EB-5 regional center program expired in June 2021, many foreign nationals are still interested in participating in the Direct Investment Program.
The Modernization Rule was repealed, and it lowered the minimum investment amount for targeted employment area (TEA) projects to only $500,000. However, the United States Citizenship and Immigration Services will likely increase this amount again. The agency has already appealed against the court decision that invalidated the Modernization Rule. Foreign nationals interested in EB-5 investments should act quickly to seize the temporary opportunity to make a $500,000 investment. EB-5 visa seekers can only make direct investments at this time due to the expiration of regional center investment. Here are some reasons why you should invest in the EB-5 Direct Visa Program as soon as possible.
Increased Control Over The EB-5 Project
Direct EB-5 investors have more control than regional center investors, who are often limited in their ability to manage the business. They can also choose to participate in daily business management. Many EB-5 investors are skilled or experienced in management and can be valuable assets for the businesses they invest in. Many investors desire some control over the use of their EB-5 capital, considering that the minimum EB-5 investment amount is high.
Higher Returns
The potential for higher returns is one of the main reasons to invest in direct EB-5. Direct EB-5 projects involve fewer intermediaries than regional center projects. All direct EB-5 funds must go directly to the new commercial enterprise (NCE). Direct EB-5 companies generally offer a lower offering and are therefore more accessible to EB-5 investors. Direct investors can expect higher returns on business operations, which gives them the opportunity to make more money.
A Permanent Investment Path
Regional center investors currently feel insecure due to the suspension of their regional center program. USCIS has stopped all I-526 petitions related to regional centers. This situation could drag on for a long time, and many regional center investors might try to get their funds back. This would cause major problems for the projects they invested in. In contrast, direct EB-5 investors do not need to worry about government reauthorization–direct investment is an integral part of the EB-5 program and does not need to be revalidated periodically.
The expiration of the regional center program could actually be beneficial to direct EB-5 projects. Since USCIS adjudicators no longer process regional center petitions, the staff may be more available for processing direct investment petitions. USCIS processing times may be shorter for direct EB-5 investors than usual.
Direct EB5 investments are a safe, reliable, and often lucrative way to move to the United States. Foreign nationals interested in investing should make their investment quickly and file I-526 petitions before minimum investment amounts increase again.
How Can EB5 Doctors Group Help You?
EB5 Doctors Group is a leading EB-5 visa consulting company that has helped doctors and dentists to establish their practices and assisted them in getting green cards with 100% approval rates. We are partners with reliable immigration attorneys, business plan writers, and investors who will work with you to start your medical or dental practice in your desired location.
With us, you don't have to invest $500,000 in order to start your clinic in the US. We have vetted investors, including MSOs, DSOs, and private equities, who will provide you with the capital funding to meet the $500,000 capital investment requirement. You will need to invest as low as $100,000. Also, our team will help you in fast-tracking the visa process with the assistance of immigration lawyers and get your green card in 2-3 years. Call us today for assistance.